Friday, March 17, 2023 - 1:00pm
Cherpack Lounge on the 5th floor of Williams Hall.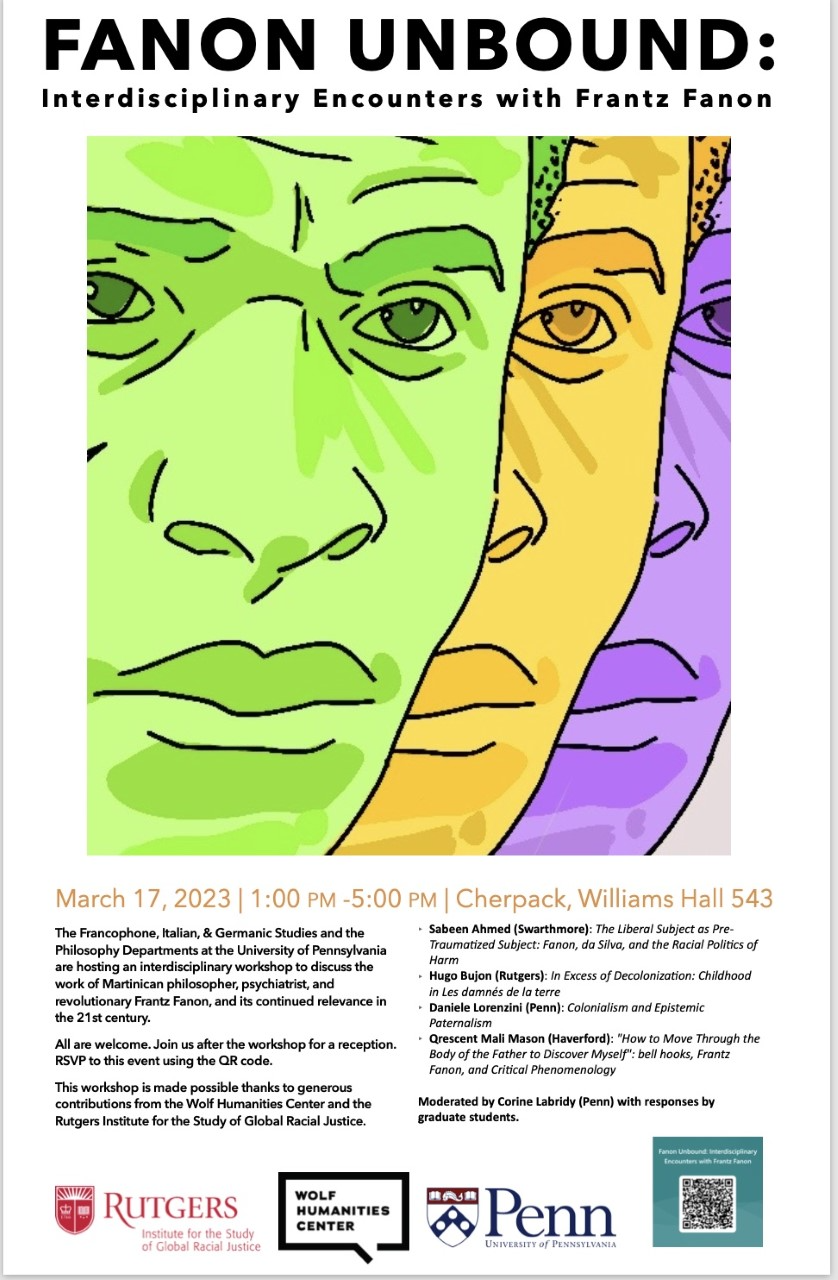 The Francophone, Italian, & Germanic Studies and the Philosophy Departments at the University of Pennsylvania warmly invite you to join us on March 17th, 2023 (1-5pm, Cherpack Lounge on the 5th floor of Williams Hall) for the workshop Fanon Unbound: Interdisciplinary Encounters with Frantz Fanon. This workshop aims to discuss the work of Martinican philosopher, psychiatrist, and revolutionary Frantz Fanon, and its continued relevance in the 21st century.
 
Sabeen Ahmed (Swarthmore): The Liberal Subject as Pre Traumatized Subject: Fanon, da Silva, and the Racial Politics of Harm 
Hugo Bujon (Rutgers): In Excess of Decolonization: Childhood in Les damnés de la terre 
Daniele Lorenzini (Penn): Colonialism and Epistemic Paternalism 
Qrescent Mali Mason (Haverford): "How to Move Through the Body of the Father to Discover Myself": bell hooks, Frantz Fanon, and Critical Phenomenology 
 
Moderated by Corine Labridy (Penn) with responses by graduate students. RSVP to this event using the QR code in the attached PDF. 
 
This workshop is made possible thanks to generous contributions from the FIGS and Philosophy Departments at Penn, the Wolf Humanities Center, and the Rutgers Institute for the Study of Global Racial Justice.