Friday, November 11, 2022 - 3:00pm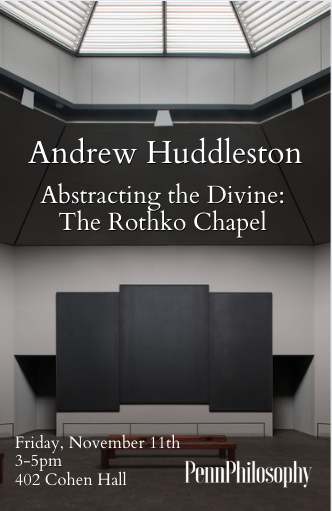 Please join us on Friday, November 11th for our Philosophy Department Colloquium with Professor Andrew Huddleston. The event will start at 3pm in room 402 of Cohen Hall, with a reception to follow.
 
Title: Abstracting the Divine: The Rothko Chapel
 
Abtract: This paper draws on a wider project of mine considering an important theme in the aesthetic theorizing and art-making of the 19th and 20th centuries. An oft-expressed ambition is that art will somehow step in and play some of the roles of religion. In this talk, I use Mark Rothko's project of a purpose-built 'chapel' in Houston for 14 of his canvases as a case study of this broader theme. I discuss Rothko's surprising denial that he was an 'abstractionist' and his related claims that, in his words, 'there is no such thing as a good painting about nothing' and 'the people who weep before my pictures are having the same religious experience I had when I painted them. And if you, as you say, are moved only by the color relationships, then you miss the point.' In the process, I explore more general issues about the nature of abstraction, expression, and content in visual art.