Friday, April 6, 2018 - 9:00am
to
Sunday, April 8, 2018 - 1:00pm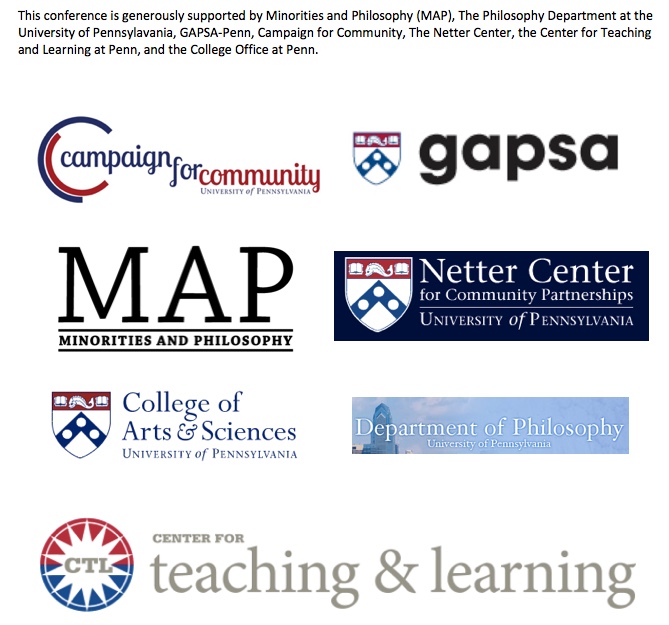 New initiatives aim to examine and address issues of underrepresented minority participation in academic philosophy. This critical attention to who philosophers are, who becomes philosophers, and what content counts as philosophy marks an exciting change toward inclusivity. Less attention, however, has been devoted to examining inclusive philosophical methods (ways of doing philosophy) and pedagogy (ways of teaching philosophy). This involves asking distinctive questions: How do traditional philosophical methods include or exclude? To whom and for whom do we teach?
The two goals for this conference are interrelated, and are respectively outward-looking and inward-looking. The first is to explore how, through sharing diverse experiences, we may as philosophers broaden our understanding of methodology and pedagogy and become better equipped to share philosophy as an accessible public good. The second is to explore how deliberately inclusive methods of doing and teaching philosophy may inform the field and enrich those very goods that so many philosophers consider worth sharing. The conference aims to approach both goals through the exchange of theoretical and practical tools and inclusive discussion among diverse perspectives.
Attendance is free, but for planning purposes advance registration is requested. If you plan to attend the conference, please register via our online form: https://goo.gl/forms/8szj0pCMSj2Zlt2y2
Questions? Please Contact one of our organizers:
Program
Friday, April 6th
 3:00pm–3:15pmWelcoming Remarks and the Role of MAP at UPenn

Nabeel Hamid

and

Allauren Forbes

3:15pm–5:00pm  "What IS inclusive Methodology and Pedagogy?"

Preliminary Discussion, facilitated by Melissa Jacquart & Steph

Wesson

5:00pm

–6:00pmReception
Saturday, April 7th
9:00am–10:00am  Breakfast
10:00am–11:00am"Philosophy as Conversation"

Daniel Collette (St. Norbert's College)

11:00am–11:30am 

Break

11:30am–12:30pm "Teaching Discussion Skills: A Metacognitive Approach"

Ann Cahill (Elon University)

12:30pm–2:00pm  Lunch
2:00pm–3:00pm "De-colonial Pedagogy and the Art of Oral Dialogues"

Ruthanne Crapo (Minnesota Community and Technical College)

3:00pm-3:15 pm  Break
3:15pm-4:15pm

 

"

Alternative

Assessment Methods: Perspectives from Instructor and

Students

Melissa Jacquart, Estefania Colon, Caroline Curran, Daniel Egozi, Tanya Jain (University of Pennsylvania

4:15pm-4:45pm  Break
4:45pm-5:45pm  "Philosophy for Youths Project at the University of Pennsylvania"

Allauren Forbes & Brian Reese (University of Pennsylvania)

6:30 Dinner

While we wish everyone could join, the conference dinner is invite-only. You will have received an e-mail from a conference organizer if you are invited to dinner.
Sunday, April 8th
9:00am-9:30am Breakfast
9:30am-10:30am "Social Pedagogy, Reflection, and Metacognition

Emily Esch (College of St. Benedict/St. John's University)

10:30am-10:45am  Break
10:45am-11:45pm  "Teaching Philosophy in the Polis

David Curry (SUNY-Potsdam)

11:45-12:00pm

Break

12:00-12:30

"Title TBD"

Heather Cook (

North-East High School, Philadelphia)

12:30pm End of Conference